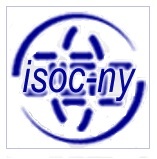 February 6, 2017, New York City – Last week the New York Internet Society passed a resolution that called for the city of New York to hold public hearings before renewing its contract with Neustar Inc. for the operation of the .nyc TLD. The resolution stated:
"The Internet Society's New York Chapter urges the city of New York to provide robust outreach and engagement opportunities for the city's Internet stakeholder community prior to renewing the contract that will guide the operation of the .nyc TLD registry for the next 5 years."
The resolution was sent to Mayor Bill deBlasio and other city officials with oversight of the city's digital resources. It cited 14 areas of concern (see page 2 of below letter) and called upon the city to undertake a three stage review before renewing the contract:
The City institute a public comment process.
The City convene a town hall event where all stakeholders may make their views known.
That the City review these comments and, as it sees fit, make appropriate adjustments.
The Internet Society's New York Chapter (ISOC-NY) is a NYS non-profit founded in 1997 with the mission "to assure the beneficial, open evolution of the global Internet, and to promote local initiatives, maximize the societal benefits which the Internet can bring to the New York area." It has taken a keen interest in .nyc as a public resource and over the years promoted, webcast, (and, on occasion, hosted) all public events where the development of the .nyc TLD has been discussed.
Here's the letter:
Share